Abby was working all of Christmas week and loathing most of it. It was depressing to be in the ER during a major holiday for so many reasons. It sucked to be the doctor telling someone that Grandpa wasn't going to make it to Mass with the family, that Junior was getting a bone marrow transplant for Christmas (if he were lucky) and not a new bike and it really, really blew chunks when someone asked her if she planned to see her family during the holidays.
No. Of course she wasn't. Maggie and Eric might get a phone call if she could find the time (and the courage) but she wouldn't be spending time with them. She was frozen in New York, they would moderately chilled in Florida. She was working herself ragged and they were decorating a tree with popcorn chains and drinking the spiced rum eggnog she couldn't have. They were a family unit she didn't feel like she was a part of any longer. Some of it was her own inability to adapt to the knowledge that her baby brother was all grown up and the refusal to accept that he didn't need her to take care of him any more. A larger part of the problem was fear. Fear of the bipolar disorder both Maggie and Eric suffered from and it was a shared terror. Maggie and Eric were afraid that Abby didn't understand them, didn't know what it was like to be inside the disease and Abby, for all she tried not to, she could never let go of her need to control and doctor the situation. Not being able to save them scared her.
What about Ruairí and his children, weren't they her family? Abby was still undecided on that front most days. She knew it took more than blood and DNA to make a family, though she had at least a thread of that in common with Caitlin and her brothers, too. She lived with them. She…cared about them all and usually she realized that they cared for her in return. But did that make them family? Did she want it to? Did they? Not that it mattered much at the moment. She wouldn't be seeing much of them either with the few short hours she wasn't working being largely devoting to sleeping or commuting back and forth from hospital to home.
That was the other thing that she hated. The commute: the subway, the walking, and the smelly cabs. They left her with all of this time to think about things like family and that her fingertips were so cold she could no longer feel them(this made not spilling coffee down the front of you difficult). And presents. She had no time to shop and even less of a budget to work with. She had begged off the Secret Santa at work but that still left her with at least Cait and Ruairí to worry about…well, Cait. She had a gift for Ruairí even if it was corny and lame.
And still not wrapped.
Dammit!All right, Lockhart. Improvise. You're an ER doc. A trauma physician. The specialty evolved out of wartime medicine practiced on the battlefield. Thinking fast under pressure is something you are trained to do.
This rolled around in her head as she approached the building she called home, let herself in and finally found herself riding the elevator to the upper floor. She had the gift on her. In her pocket, actually. And she was supposed to give it to him tonight.
They were celebrating on Christmas Even since Abby had somehow managed to have the night shift off though it meant she was on home call and also had to drag herself back to the hospital first thing in the morning. She had roughly two minutes to figure out what she would do and as she gave it a final consideration, the brunette tipped her nearly empty coffee cup back and drained it. She looked at the Styrofoam cup thoughtfully.
Well…it
would
fit.
Out in the hallway, before fumbling for her keys, Abby popped the lid off the cup and used one wool glove to soak up the coffee remnants then dug through her pockets until she found what she was after. She doubted anyone other than Ruairí would understand the significance of the silver-plated metal buckle. Actually, even if he recognized the girth buckle from a horse's saddle, she was still going to have to explain why she was giving it to him in a coffee cup (the lid was back on) for Christmas.
His keen hearing must have alerted the púca to her presence because the door opened before she got her key into the lock. Smiling up at the silver-haired man, Abby thrust the cup into his hand. "Merry Christmas. Sorry about the 'gift wrap'."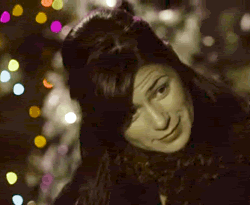 Abby Lockhart//ER//818
Current Location: home
Current Mood:

anxious